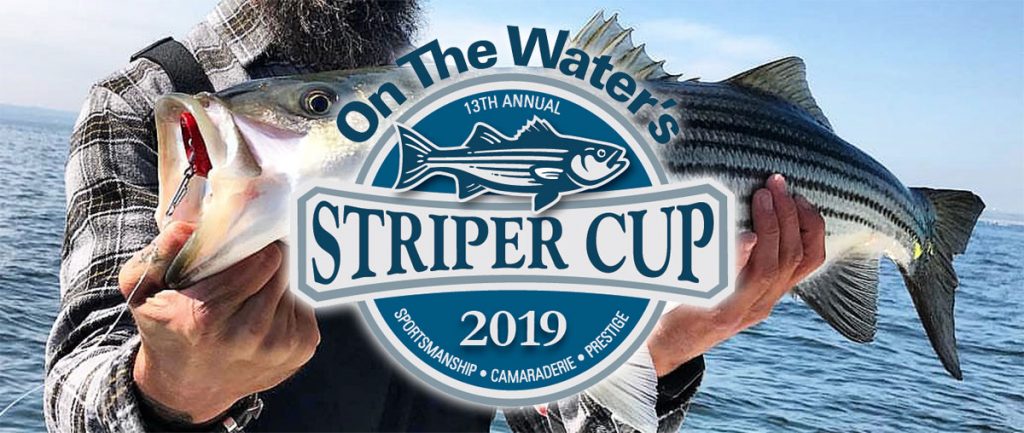 Kudos to the folks at On The Water magazine and T.V. show for their forward-thinking decision to make their 2019 Striper Cup Tournament a 100% no kill necessary event! "The mission statement of the Striper Cup has always been "to celebrate fishing for the beloved striped bass. "That remains unchanged, and I think most striper fishermen would agree that there's no better way to celebrate catching a big striper than to watch it swim away." OTW This will have a marked and positive impact on the fishery as the Striper Cup is the largest striper tournament on the east coast. We take our hats off in praise of On The Water for their sincere and well thought out efforts to conserve these valuable fish for the future. Will the Martha's Vineyard derby now follow suit? The increased acceptance of C&R is more reason for you to support the no gaff and mandatory circle hook proposals today.
The results of the Stripers Forever 2018 Annual Fishing Survey are finalized, and you can view all of the results below. For 2018 we received 450 responses to our annual survey. The survey has again produced a good representative sampling of sentiments from fishers all along the striper's migratory range, and as usual MA and NJ vied for the greatest contributions with 114 and 112 completed surveys respectively. NY had 56, RI 44, and ME 46. 85% of our respondents had more than 10 years of experience fishing for striped bass.
2018 saw the reversal of what had been a tiny uptick in angler catch statistics. In 2015 and 2016 the percentage of anglers who said that they caught fewer or many fewer stripers per hour declined a little each year. Overall, angler sentiment was still quite negative, but it was improving. In 2017 that improvement stopped, and in 2018 anglers reported catching less striped bass for the time they put in fishing.
In all but one year of the last 7 anglers reported catching smaller striped bass. This seems to be a long term trend and certainly suggests to us that current regulations put too much pressure on large striped bass.
Answers to questions about the need for a slot limit allowing smaller-sized stripers show that our members continue to believe we should not be harvesting large, breeding stripers, and that they want to set aside a high percentage of the current commercial catch for conservation – and not harvest it themselves. Because of the need to fit a large, commercial quota into the overall striped bass plan regulators must suppress angler harvest. Regulators do that by adopting a high recreational minimum size like 28 inches so that most anglers will seldom be able to catch a keeper. The smaller stripers that the recreational anglers are prohibited from keeping, though, are instead gill-netted by commercial fishermen.
82% of our members – up slightly from 77% in 2016 – said that they are willing to buy a stamp to finance the buyout of the commercial fishery.
We had survey results from only 47 guides 2018. This is a very valuable industry. About 94% of the guide responses were that catching a lot of striped bass was either somewhat or very important to their clients. The guides know how to fish their areas, and can usually produce the best results possible from their home waters. If you are thinking about a guided trip please check out the guides and tackle shops listed on the Stripers Forever website. If you don't see your favorite guide listed on our website just send us an e-mail at stripers@stripersforever.org. and let us know about it. The listing is free.
We will send this information to the press and fishery policy makers everywhere. We hope that you will use this information personally to help us advocate for the goal of coast-wide striped bass game fish. Please share the results with your local fishing club, home town newspaper, and elected officials that you may know.
FULL SURVEY RESULTS
If you have any questions about the survey please don't hesitate to email us at stripers@stripersforever.org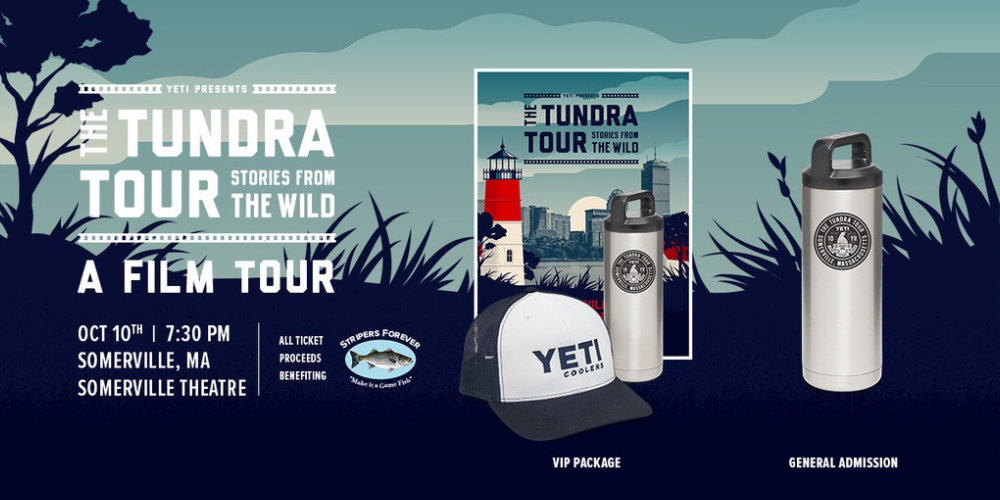 Join us at the Yeti Tundra Tour in Somerville, MA on October 10th at 7:30 PM. All ticket proceeds will benefit Stripers Forever. General Admission tickets secure you a Tundra Tour logo 18oz. Rambler Bottle. The VIP package will get you the same 18oz. Rambler Bottle plus a Yeti mesh back hat and Tundra Tour poster. Please join us for a great night and support Stripers Forever in the process.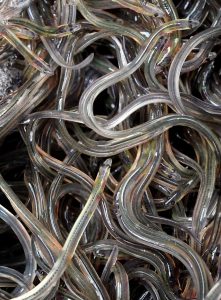 Here is your chance to speak up for the health of our marine ecosystem and favorite striped bass food! We need to make sure that the harvest levels remain the same and NOT increased so that a few may profit! The Atlantic States Marine Fisheries Commission (ASMFC) is seeking public comment on its plans to make changes to its American Eel Fishery Management Plan (FMP) for commercial yellow and glass/elver eel allocation and management.
This is an important opportunity for the public to ask for increased eel conservation. By entering your information we will send a letter to your appropriate representative in support of increased eel conservation. You will receive a copy of this conversation and a copy of the letter sent via email.
Please share with a friend. We only have until June 15, 2018 to make our voice heard.
Thanks!
RETURN TO OUR HOMEPAGE AND LOOK FOR THE EEL IN THE LOWER LEFT HAND CORNER. THE FOLLOWING LETTER WILL BE SENT TO THE ASMFC ON YOUR BEHALF.
---
Dear ASMFC-
According to the U.S Fish and Wildlife Service, in all its life stages, the American eel serves as an important prey species for many fish, aquatic mammals, and fish-eating birds. Climate change may affect future ocean conditions, such as water temperature, current patterns and food sources that may have implications for the eels breeding success. However, high levels of uncertainty in the precise mechanism and timing of such changes make it difficult for scientists to accurately predict how, or to what extent, any changes will affect eel migration, aggregation for reproduction, and ultimately abundance.
According to the ASMFC, The goal of the current American Eel FMP is to conserve and protect the American eel resource to ensure its continued role in its ecosystems. This FMP requires that states and jurisdictions maintain existing or more conservative American eel commercial fishery regulations for all life stages, including minimum size limits. Each state is responsible for implementing management measures within its jurisdiction to ensure the sustainability of its American eel population.
However, the 2012 benchmark stock assessment results indicated that the American eel stock had declined, that there were significant downward trends in multiple surveys across the coast, and that the stock was depleted. And, the 2017 assessment update repeated the 2012 finding that the American eel population is depleted.
In addition to the depleted stock status, the total coast wide yellow eel landings from 2011-2016 exceeded the coast wide cap in 5 out of 6 years. And, there are significant uncertainties in the commercial landings data because not all states comply with the required data reporting, and there are potential biases present in the commercial yellow eel data set because even with mandatory reporting, requirements do not always extend outside marine districts where yellow eel are harvested from non-marine waters, and misreporting between conger eel, hagfish, slime eel, and American eel has been known to occur.
Regarding the current elver harvest, given an estimated 2,000 elvers per pound, the current Maine quota of 9,688 pounds combined with the 15 states aquaculture quota of 200 pounds each would yield a total coast wide quota of 12,688 pounds, or a potential to remove 25,376,000 eels from the water, in addition to the total yellow ells removed under the current coast wide quota of 907,671 pounds.
To achieve the conservation goals of the ASMFC's American Eel Fishery Management Plan through Addendum 5, we feel the following Addendum V options should be implemented:
3.1 Proposed Options for Maine Glass Eel Quota: Option 1: Status Quo Quota for Maine of 9,688 pounds of glass eel.
3.2 Proposed Options of Glass Eel Aquaculture Plans: Option 1: Status Quo.
3.3 Proposed Options for Yellow Eel Coast wide Cap, Management Trigger, and State-by-state Allocations:
Issue 1: Coast wide Cap: Option 4: Coast wide Cap set at 836,969 pounds; a 12% decrease from the mean or average of 1998-2016 landings.
Issue 2: Management Trigger: Option 1: Status QuoThere are also numerous allocation options in Addendum V, but the main options to maintain or increase protections for American Eel are the ones noted above.
Thank you for the opportunity for concerned anglers like me to submit comment!
Your contact info will go here.
---