Important News Update- ASMFC To Vote On Menhaden Management
This newsletter will focus on one development that could be (hopefully) the litmus test for all future marine species management decisions: ecosystem based fisheries management.  While most of us are preoccupied doing "field research" on striped bass and chasing golf balls during our leisure time, our dedicated volunteer Ken Hastings attends nearly every Atlantic States Marine Fisheries Commission (ASMFC) meeting as a spokesperson for Stripers Forever. Thank you Ken, you are doing a terrific job and a real service toward our conservation efforts.
Ken reports that during an intense and indecisive debate (8/3/16) on whether or not to increase the menhaden harvest, the ASMFC voted to delay their final decision until their next meeting by which time a scientific assessment of the importance of menhaden to the entire ecosystem will be available. The ASMFC will be shifting menhaden management to ecosystem based management in 2018. Ken reports that conservation was a realistic, not a forgotten concern during the animated discussion!
The conservation argument against increasing the harvest was defiantly put forth by Loren Lustig from PA. Loren is a life-long fisherman and also an environmental educator. Ken explained that "Loren opposed the (harvesting) increase out of concern for how he could explain to his students why we should be gambling with the environment they will inherit from us. WOW doesn't come close to describing his eloquent defense of the environment we all share."
We all owe Loren, Ken and those members of the ASMFC who had the courage to stand up to the commercial interests led by the mega-million dollar reduction fishery voice and influence of Omega Protein. Part of the good news is that some members of the ASMFC are showing some backbone and willingness to do what everyone knows is the "right thing" as the appointed stewards of our marine resource and we applaud them for their courage and their wisdom.
What follows is an excerpted argument against increasing the menhaden harvest put forth by the Conservation Law Foundation. It succinctly states why menhaden are so important and is interesting reading. A large and healthy menhaden stock is a prerequisite food source for a healthy wild striped bass population. We must all be concerned and involved in bringing it back to its once abundant status if we ever want to have a healthy striped bass population.
Enjoy your summer and please let the big ones go and become members of our Release a Breeder Club.
Thanks-
Dean Clark, National Board Member/ MA Co-Chair
---
Menhaden Defenders is a great group of conservation minded anglers and concerned citizens who want to restore Atlantic Menhaden to sustainable levels. For more news updates concerning Menhaden please visit their website and become a member.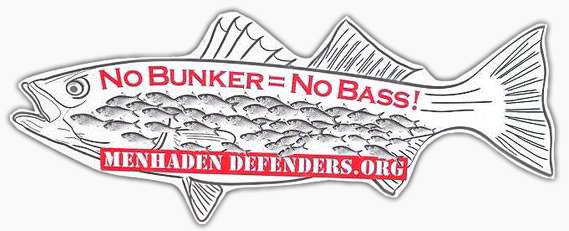 ---
Excerpts from a recent Conservation Law Foundation paper stating the arguments against increasing the menhaden harvest.
---
If managers increase the catch limit, hundreds of millions more menhaden—often called "the most important fish in the sea" because of their role as food for predators—will be removed from the Atlantic Ocean.  Here are 10 reasons the (ASMFC) board should not raise the existing catch limit on these forage fish:
1. Don't mess with success. The ASMFC created the first coast-wide catch limit in 2013 and set the allowable catch lower than the amount taken in preceding years in order to help menhaden rebuild. The quotas leave hundreds of millions more menhaden in the Atlantic to become food for fish, seabirds, and mammals.  Early reports suggest that conservation is working and the menhaden population is growing.
2. Predators need menhaden in the water. Last year, the ASMFC committed to shift from single-species management of menhaden to a big-picture approach recognizing that menhaden serve a critical role in the water as food for important predators. Managers should not change the catch limit until scientists and managers complete their work examining how menhaden numbers affect predators.
3.  Especially predators recovering from low population numbers. Striped bass and weakfish eat menhaden, and their populations are struggling. Other important species such as humpback whales, eagles, and osprey depend on menhaden for food as they recover from decades of challenges. Taking millions more menhaden from the ocean could harm efforts to rebuild these species by reducing the availability of prey.
4. There is no new science to justify an increase.  A decline in forage fish can cause negative impacts that ripple through the ecosystem, so coast-wide catch limits should always be based on the best available science. Managers increased the menhaden quota by 10 percent in 2015 based on the most recent available assessment, but there is no new assessment to turn to this year. Therefore, managers should wait until scientists complete their new plan, including an evidence-based analysis of the health of the Atlantic population and the effect of any change in catch limits on the ecosystem.
5. Menhaden have not recovered their historic range off the Northern and Southern states. There is some evidence of recovery in the Mid-Atlantic and Southern New England, but menhaden remain far below their historic numbers in the Northern and Southern regions of the East Coast. However, if conservation efforts continue, they can be abundant again from Maine to Florida.
6. The Chesapeake Bay is vulnerable. The vast majority of the menhaden fished coast-wide are caught in one relatively small area near the mouth of the Chesapeake Bay, which is also a vital nursery area for many ocean species. An increase in the 2017 quota would intensify fishing in this important and vulnerable estuary, which is already harmed by the loss of important habitats and poor water quality.
7. There are warning signs in the science. The latest peer-reviewed scientific assessment identified a growing number of mature menhaden, indicating that the population is poised to increase.   But it also suggests that menhaden are still vulnerable: The overall number in recent years was near historic lows, as was the number of young fish surviving long enough to reproduce and help the population grow.
8. The public supports leaving more menhaden in the water. Atlantic menhaden are a public resource. Over the past decade, comments from stakeholders in every East Coast state have overwhelmingly supported leaving more menhaden in the water as prey for predators. A record 147,700 people wrote in and more than 300 attended a meeting to support conservation management when the ASMFC set the first catch limit.
9. Stability is good. Managers are awaiting a scientific assessment in 2017 and will shift to new ways of managing (ecosystem ed.) fish in 2018. Increasing the catch limit now could be followed by a reversal—an unfortunate "regulatory whiplash" that presents a challenge to businesses. Staying the course with the current catch limit will give businesses the confidence to plan ahead and make sustainable investments. Reducing pressure on forage fish also helps build resilience for wildlife in our changing oceans.
10. Conservation is a smart investment. Giving menhaden time under current catch limits to return to their historic population size and range will deliver the highest benefit to Atlantic coast ecosystems, economies, and fishermen.