Official Numbers: Maryland's 2016 Striped Bass Young Of The Year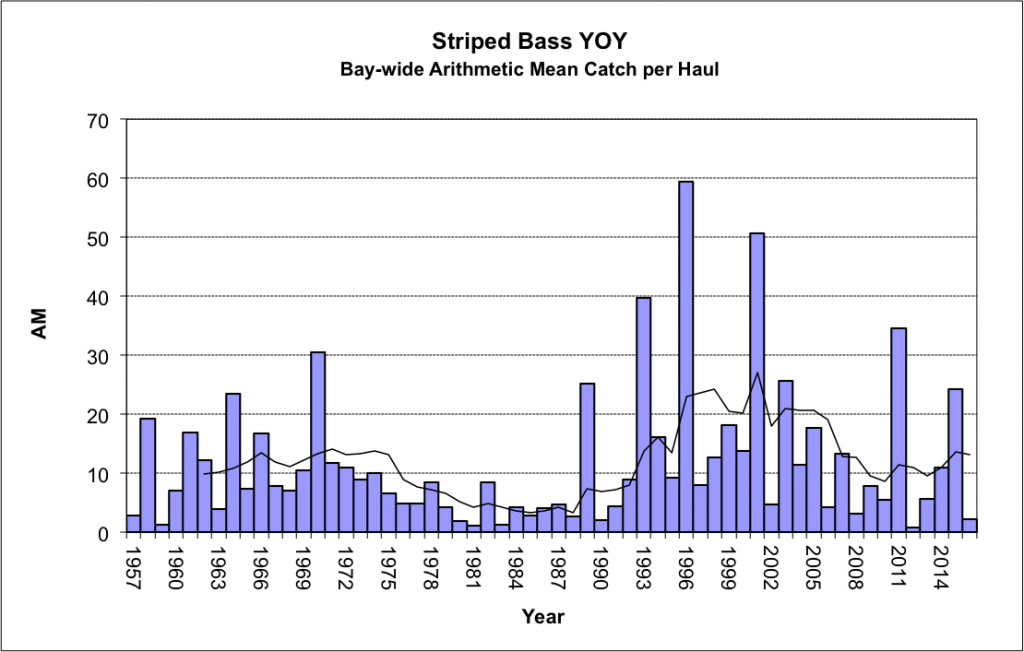 The official numbers are out on Maryland's 2016 striped bass young of the year, and they aren't good.  This late summer count of striped bass born during the past spring is calculated annually  by Maryland's Department of Natural Resources by hauling a seine through essentially the same areas of Chesapeake Bay, at the same time, year after year.   The number of baby bass caught in the net is averaged and a final count for the year is eventually calculated.  In 2016 it was 2.2 which compares to a long-term average of 11.86.  In fairness striped bass spawning success in the Bay has historically varied considerably on a year to year basis.  But it is the trend that is worrisome.  Here is the average YOY trend by decade since the recovery began from the collapse of the late 1970s:
·         1987-1996   17.3
·         1997-2006   16.2
·         2007-2016   10.9
This is a decline of 37% since the height of the recovery that gave us the great fishing of the late 90s and early 2000s.  But what is more alarming is that two of the poorest years for young stripers in the last 30 – 2016 and 2012 – occurred during the last 5 years.  In fact the average for the last 5 years is just 8.81 or about half of what it was during the top of the recovery.
Clearly the direction is not good.  We cannot change these numbers and the abundance or scarcity of big bass available to spawn and to fish for 10 or 15 years from now will depend on how we treat these fish as they grow.   If we gill net them in Chesapeake Bay, then start cropping them off commercially and recreationally at 28 inches in size, there certainly will be many less large spawners than there are right now, and the quality of fishing will continue to deteriorate.
In truth we are not talking just about numbers here but of the future of wild striped bass and how we choose to manage this shrinking resource going forward. This fishery and the billion dollar plus recreational striped bass fishing economy is threatened by the current, regulatory philosophy that undervalues the quality of the fishery in favor of harvesting. At present these fish are managed primarily for their limited commercial value and as long as these fish have a commercial price tag on their heads their future will always be in doubt. Only by declaring and managing them as a game species will they have a secure future…… and that is the goal of Stripers Forever: insuring a healthy and robust wild striped bass fishery.