IMPORTANT ASMFC ACTION REQUEST
Menhaden Hearing: Attendance and Comments Requested
The ASMFC is considering updates to the Menhaden fishery management plan that will leave more fish in the water for predators like Striped Bass and Bluefish, and update state-by-state quota allocations.
For those of you who have been on the water this fall, you've seen huge bunker schools and hopefully got to enjoy some of the EPIC blitz fishing! It's been an incredible fishing experience and even better for the health of the marine ecosystem. When was the last time anyone saw humpback whales in Perth Amboy or up the Hudson at the GW Bridge?!
To keep the progress rolling, we need to lock in this success by establishing "Ecological Reference Points, (ERP)" accounting for the needs of all predators. Now is not the time to risk taking a step backwards. We also need to make sure that that there is an equitable distribution of the catch. One company, Omega Protein, should not be allowed to get 80% of the fish to grind up for pet food and Asian aquaculture feed. The bait sector deserves a larger slice of the pie.
This document, created by Menhaden Defenders, gives a background summary and covers all major talking points: Menhaden Defenders Background and Talking Points
Please click here to view all coast-wide meeting dates, times and locations: Menhaden Public Information Document (PID) for Draft Amendment 3 Hearings
If you are unable to make the meeting near you, written comments will be accepted via mail, fax and email until January 4, 2017. For this information please see page (2) of this document:​​​​​​​ Public Information Document (PID) for Draft Amendment 3 Public Comment
Thank you in advance for doing your part!​​​​​​​​​​​​​​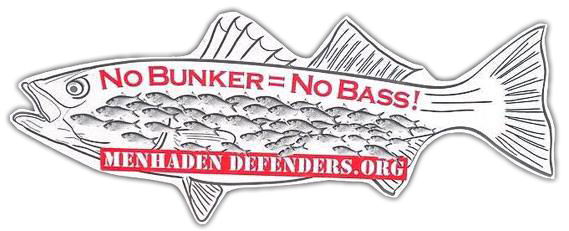 Menhaden Defenders is a great group of conservation minded anglers and concerned citizens who want to restore Atlantic Menhaden to sustainable levels. For more news updates concerning Menhaden please visit their website and become a member.