ASMFC ACCEPTS PRELIMINARY STOCK ASSESSMENT
In February we reported that the ASMFC's "preliminary" stock assessment report indicated what those of us who fish a lot for stripers already knew, and that was the spawning stock biomass "SSB" – total weight of spawning age fish in the striper population – has shrunk below the "threshold" level, and corrective action is required – see graphic.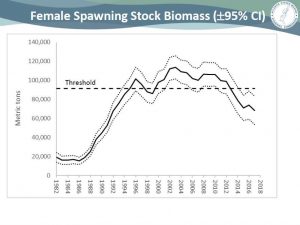 The current SSB is estimated to be at about the same level as it was in 1992, and many of us believe the number of larger striped bass that were around in 1992 was much greater than we are looking at today. Further evidence of problems for striped bass comes with a recognition that spawning success in Chesapeake Bay during the last 15 years has slumped to about one half of what it was during the glory years of the 1990s.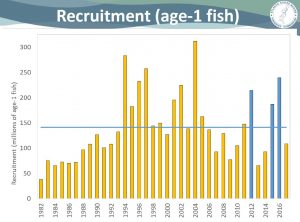 Finally, fishing mortality, that is the percentage of the striped bass population killed by fishing, has risen to levels well above the threshold where corrective action is supposed to have been taken. As you can see from all of these graphs the decreased spawning stock and increased fishing mortality are trends that began about 15 years ago. There was evidence of this at many points along the way, but as has always been the case, the ASMFC is very slow to take steps to cut back on fishing mortality.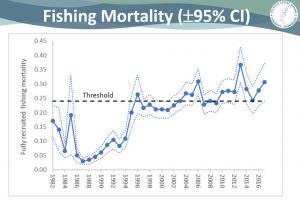 In their April 30th meeting, the ASMFC accepted these findings and charged the scientific board to come up with various measures including slot limits and closed seasons to bring the fishery in to compliance with the 17.5% reduction that is thought to be required to rebuild the SSB. It is unknown at this time what these new regulations will look like – though it was expressed that a 35" minimum size in the recreational fishery would achieve the required reductions.  This large minimum size would cut recreational harvest almost in half, and would raise catch and release mortality a small amount. It was also determined that recreational and commercial interests would share equally – relative to their catches – in the reductions. The potential new management measures are supposed to be decided upon in August, taken to public hearings in September, and then formalized at the annual meeting the last week in October for implementation in 2020.
Stripers Forever's board is still discussing the possible options. It's safe to say that all of us would put the stripers first and are willing to support whatever measures the ASMFC decides on that will bring about the necessary mortality reductions. We do, though, think that this is also a time when we should be examining the goals for striped bass management.
In the 1970s the striped bass population collapsed from overfishing. A complete moratorium on harvest was implemented in Chesapeake Bay, and coastal fishers accepted a minimum size that eventually increased all the way out to 36 inches. This formula created a striped bass population the likes of which no living person had ever seen. The abundance of stripers created an entire striped bass saltwater fishing culture, put hundreds of guides into business, sold tons of boats, and drew many thousands of citizens to the ocean. It was wonderful to witness. This recreational striped bass fishing infrastructure has been slowly declining for years. Some striper fanatics saw it coming very early on. The beginnings of the increased bag limits and commercial quotas had an immediate and obvious effect on the fishery. That is why in 2003 we started Stripers Forever. As you can see looking at those graphs, we were right. The commercial fishery should never have been reopened, and instead of concentrating the whole coastal fishery on large stripers there should have been a slot limit and a season if necessary, to keep mortality in the desired zone.
Striped bass cannot be everything to everyone. We cannot, simultaneously, fish for them commercially, make them the target of head boats, hold up the dead bodies of the big breeders, gut hook them with bait in lukewarm water, have unlimited season-long possession limits, and expect to have an abundant resource and the great fishing opportunities that provides. Stripers Forever will be advocating for a new day in striped bass management that stewards these fish for their greatest socio-economic value to the public.
The ASMFC has accepted the findings of the stock assessment; Connecticut, Massachusetts and Virginia have already sent a strongly worded letter to the ASMFC suggesting more action be taken ASAP. Virginia has also taken emergency action and canceled its spring trophy season. We will continue to follow this and bring updates to your attention as things progress.
---
ASMFC Main Meeting Materials
ASMFC Supplemental Materials
ASMFC Summary
---