ASMFC 2023 Summer Meeting | Tuesday 8/1/23 1:45 – 5:45 PM EST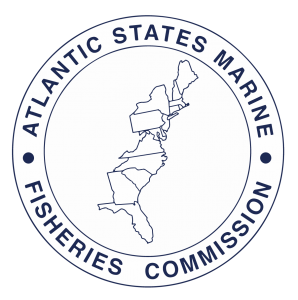 ---
ASMFC 2023 Summer Meeting
---
Taylor Vavra | Vice President
Tomorrow August 1, 2023

from 1:45 – 5:45 PM EST the Atlantic Striped Bass Management Board will meet as part of the ASMFC 2023 summer meeting (webinar live streaming link and meeting document links are below). At the May 2023 meeting, it became clear that the 2029 rebuilding timeline was in serious jeopardy when 2022 recreational landing data was released, effort was up in 2022 and in turn harvest (landings) had doubled. The board reacted by taking emergency action, narrowing the slot to 28-31″. They also unanimously voted to adopt the following motion.
Move to initiate an Addendum to implement commercial and recreational measures for the ocean and Chesapeake Bay fisheries in 2024 that in aggregate are projected to achieve F-target from the 2022 stock assessment update (F=0.17). Potential measures for the ocean recreational fishery should include modifications to the Addendum VI standard slot limit of 28-35″ with harvest season closures as a secondary non-preferred option. Potential measures for Chesapeake Bay recreational fisheries, as well as ocean and bay commercial fisheries should include maximum size limits. The addendum will include an option for a provision enabling the Board to respond via Board action to the results of the upcoming stock assessment updates (e.g. currently scheduled for 2024 and 2026) if the stock is not projected to rebuild by 2029 with a probability greater than or equal to 50%.
There is a lot on the table for tomorrows' meeting, as you see in the draft agenda below. There is also a lot of speculation swirling in regards to what will happen with Addendum II. Today we will keep this short and simple as this upcoming meeting will hopefully finalize the language of draft Addendum II. The next step would be to release Addendum II for public comment and again we will have a series of public hearings and another opportunity for written comments. After that takes place in August and September the board will meet sometime in October to review said public comment and then take final action on Addendum II.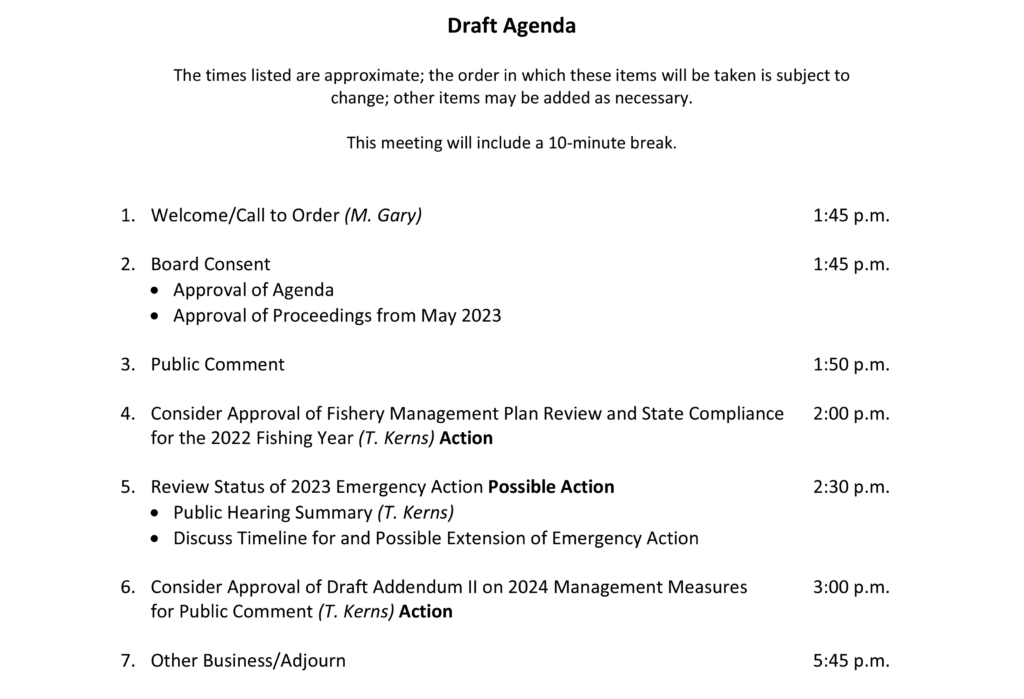 The for hire sector and others remain opposed to the emergency action and likely will also oppose Addendum II. As always, we will be here to summarize tomorrow's meeting and when the time comes, work towards a call to action in response to any public comment period. It may seem like this is a never ending process, we sometimes feel the same way. We can't take our foot off the gas, because if we do, an abundant and healthy striped bass stock may become a distant memory.
For live updates during the meeting please follow us on Instagram and look for our stories as the meeting progresses.
Thank you for your continued support!
---
ADDITIONAL LINKS
---
Tuesday August 1, 2023 (1:45AM – 5:45 PM EST) | Summer Meeting Live Streaming
Webinar ID: 505-145-715
Phone: +1.914.614.3221; access code 865-531-935