ASMFC 2023 Spring Meeting Action Alert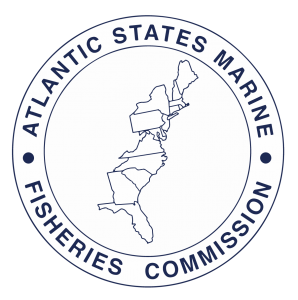 ACTION ALERT
---
ASMFC 2023 Spring Meeting
---
Taylor Vavra | Vice President
Technical Committee Meeting Summary
Gonna keep this simple and get right to the point. On March 30, 2023 the ASMFC striped bass technical committee met, it was clear from the start that this was going to be a tough one. A review of NOAA preliminary 2022 MRIP data has revealed that harvest sky rocketed in 2022, total harvest in pounds went from 15.8M in 2021 to 35.3M. (see NOAA chart below) Harvest more than doubled and that will have a grave effect on the probability of rebuilding the stock, reducing it by 83-86%. We are now looking at a 14.6% probability of rebuilding, even less if Addendum 1 (commercial quota transfers) is approved. Many of us suspected would happen, the 2015 year class (eighth largest on record), entered into the slot and provided some areas on the coast with some incredible fishing last season. A double edged sword of sorts, great fishing translated into a LOT more fish being harvested.

'We have to give something to get something.'
Yet again we have been delivered some really bad news and find ourselves at a cross roads with the striped bass stock. The current management plan has failed and now it's a matter of when, not if the board moves to initiate Addendum 2. The requirements of Amendment 7 clearly state that the stock must be rebuilt within a 10 year period and with a 50% probability of success. If the board does not take immediate action at the May 2nd meeting there is a very strong likelihood we will not rebuild (reach target biomass) by 2029. One reason for delayed action could be a motion to postpone until the next stock assessment. Another would be to wait for final MRIP numbers, that seems less likely as a correction would be minimal and we are dealing with a very large shift from 2021 to 2022. The technical committee clearly stated that they are very concerned about any delay in addressing this. Yet again it will be up to the board to fulfill their responsibilities and act now.
I prefer not to use the phrase "I told you so" but at this point that's kinda how we are feeling. Time after time we go in circles, tweaking and adjusting a management plan that shows little sign of working. This type of management is not sustainable, it is not good for the stock, it is not good for the people who depend on fishery to feed their families and it is not good for the anglers who want to see an abundant population of striped bass so they can enjoy it and see their kids do the same. Many years ago we funded a study by the Southwick Associates to compare the relative economic values of commercial and recreational striped bass fishing, but it also takes the important step of determining what the socio-economic landscape would be like if commercial fishing for wild striped bass were to cease and the fishery managed purely for recreational/personal-use fishing. To cut to the chase, a striped bass is worth way more in the water than it is on a plate. Our goal is to create an abundant striped bass fishery that serves the greatest economic good, protecting the jobs and industries that need a quality fishery to operate and flourish.
We have to give something to get something. This translates to having a long term vision for the fishery and giving back for a period of time in order to reach our collective goal. During the process that led up to Amendment 7 to the management plan for striped bass, we strongly suggested that an

equitable (commercial and recreational) harvest

moratorium be put in place for a period of time. To this date, it is the only clean and clear cut approach that has in fact rebuilt the stock back to abundance. Remember those phenomenal years of fishing in the late 90's and early 2000's? We also suggested seasonal harvest closures, particularly in and around spawning areas. Coming off four straight years of very poor spawning success in the Chesapeake, the Hudson River has become one of the most important spawning areas on the coast. Those fish both pre and post spawn stage in the NY bight, a vast majority in Raritan and Jamaica bays. These areas need protection in the early spring when fish are moving in and out to spawn. The upper Hudson river, where the majority of spawning takes place, needs to be protected with both a no target and no harvest closure in the spring while spawning is taking place. The concern over enforcement is irrelevant. Put the measures in place, many will comply, some may not and get caught, some may get away with it. At the end of the day and at this point in time, anything will help in getting us back on track.
ACTION ALERT – 'Be part of the process'
We submitted a letter (see below for letter, link to view the PDF is at the bottom of this page) to the board and it has been included in the supplemental materials for the May 2nd meeting (link also below). In our letter we are calling on the board to fulfill their responsibilities and act now. We are asking them to take Addendum 1 (commercial quota transfers) off the table and instead initiate Addendum 2 to address the MRIP harvest data and increase the rebuilding probability to ensure that it happens by 2029.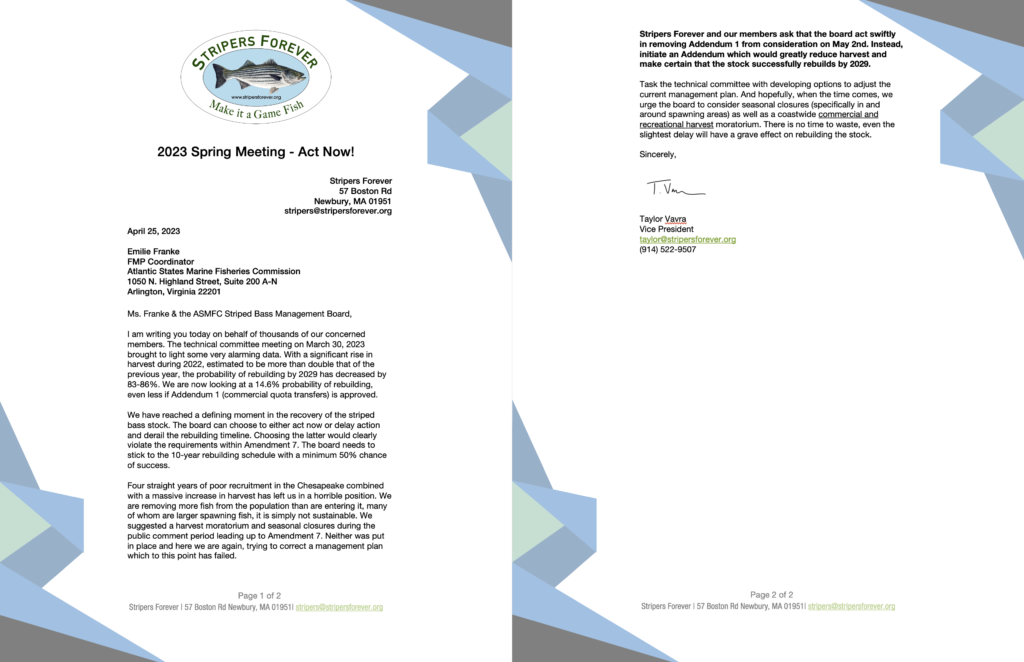 Now we are asking you to step up, be part of the process, make your voice heard and email the ASMFC Atlantic Striped Bass Management Board members with your thoughts. Let them know that the current management process is failing and that they should do everything in their power to act swiftly and act now. Let's flood their inboxes in the days before the meeting, the more that speak up the better. This is a really important time for the future of striped bass, we cannot take the foot off the gas. And if a new addendum is initiated, we will be following it closely and yet again asking for your participation to create the best outcome possible.
Below you will find the email addresses for all currently listed commissioners, administrators, governors appointees, legislators and proxies. Please copy and paste that list into your email and send ASAP. It is best that you use your own words but please feel free to use our letter for guidance.
Megan.Ware@Maine.gov, FVHATTIEROSE@aol.com, Allison.hepler@legislature.maine.gov, Cameron.reny@maine.legislature.gov, Cheri.Patterson@wildlife.nh.gov, renee.zobel@wildlife.nh.gov, groutnhfish@gmail.com, r-dwhite@comcast.net, dhw@cisunix.unh.edu, swamper199@gmail.com, Dan.mckiernan@state.ma.us, ray@capecodfishermen.org, Sarah.Peake@mahouse.gov, sarah.ferrara@mahouse.gov, jason.mcnamee@dem.ri.gov, lizzy.2@charter.net, sen-sosnowski@rilin.state.ri.us, Ericreidri@gmail.com, justin.davis@ct.gov, matthew.gates@ct.gov, hyattwilliam01@gmail.com, robert.lafrance@quinnipiac.edu, Basil.Seggos@dec.ny.gov, ech12@cornell.edu, joseph.cimino@dep.nj.gov, Heather.corbett@dep.nj.gov, tfote@jcaa.org, Peter.clarke@dep.nj.gov, sengopal@njleg.org, captadamnj@gmail.com, tischaeffe@pa.gov, kkuhn@pa.gov, senseofwonder@pa.net, john.clark@state.de.us, fishmaster70@comcast.net, william.carson@state.de.us, crabman31@aol.com, lynn.fegley@maryland.gov, michael.luisi@maryland.gov, MARYJDIZE@GMAIL.COM, robert.t.brown@shopcove.net, mbrassil@house.state.md.us, davidsikorski@ccamd.org, jamie.green@mrc.Virginia.gov, pat.geer@mrc.virginia.gov, bplumlee@pbp-attorneys.com, District01@senate.virginia.gov, kathy.rawls@ncdenr.gov, Chris.Batsavage@ncdenr.gov, jmannen@yfmlaw.com, sengopal@njleg.org, thomascd@roadrunner.com, bellm@dnr.sc.gov, rhodesmm@musc.edu, RonnieCromer@scsenate.gov, Doug.Haymans@dnr.ga.gov, Trey.Rhodes@house.ga.gov, jessica.mccawley@myfwc.com, GJENNINGS@ASAFISHING.ORG, Thad.Altman@myfloridahouse.gov
In the additional links section below you will find links to our letter to the board, meeting materials and a link to May 2nd webinar meeting. We will follow with another reminder on the meeting itself, as always we encourage you to attend.
Thank you for your continued support!
---
ADDITIONAL LINKS
---
Tuesday May 2, 2023 Spring Meeting Live Streaming (8:30AM – 12PM EST)